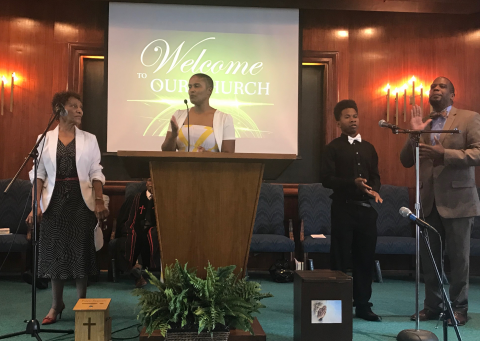 Our Vision
To be known as loving Christian believers who care in meaningful ways for God, self, and others by vibrant interactions, life-changing teachings and preaching that focuses on fulfilling the gospel commission (Rom. 13:8; Jas. 1:27; Matt.28:18-20).
Our Mission
To nurture and equip the Liberty Seventh-day Adventist Church members in developing a close relationship with Jesus Christ by encouraging them through Bible teaching to live and be witnesses for Him to all peoples in the Western Baltimore Metro Area and beyond (Eph. 4:12, 13; 2Tim. 2:15; 3:14-17; Acts 1:8).
Our Objectives
To promote a nurturing environment and activities that foster human development by candid communication.
To educate, train, and empower Liberty members to grow in grace and knowledge of God's will in order to go, teach, disciple, and baptize unbelievers.
To provide Bible-based teaching and training that will affect ethical and moral living for this life and eternity.
To demonstrate and practice holistic relevant ministry services to Liberty members and their communities of influence. 
Our Affirmation of Faith
    By the grace of God, I will "remember the Sabbath day to keep it holy" and by living its holistic principles of mental, emotional, spiritual and physical rest, be a Sabbath-keeping Christian throughout the entire week.  (Exodus 20:8-14, Eph. 1:4, Eph. 2:8) 
    By the Holy Spirit's renewing of my mind, I understand that my identity is not only what I say but how I live; "yet not I, but Christ lives in me" and as Jesus is manifested in my mortal flesh, I am becoming His living epistle, "known and read of all men".  (Ro. 12:2, 2 Cor. 3:2, Gal. 2:20, James 1:22) 
   By revelation and necessity, I am inspired to study the Bible, God's holy word, to "show myself approved unto God"; and by receiving its teachings, reproofs, corrections and instructions, I can live every day of the week with patience, comfort and hope.  (Romans 15:4, 2 Tim. 2:15, 2 Tim. 3:16, 17) 
  By the faith of Jesus, I purpose to grow by surrendering my self-centeredness to His power, presence and commandment to "love one another as He has loved me", so this world may be a better place wherever I testify of Christ.  (Matt. 28: 18,20, John 15:17, 2 Cor. 5:17, Titus 2:12, Rev. 12:17. Rev. 14:12) 
About Seventh-day Adventists
The Seventh-day Adventist Church is a mainstream Protestant church with approximately 19 million members worldwide, including more than one million members in North America. The Seventh-day Adventist Church seeks to enhance quality of life for people everywhere and to let people know that Jesus is coming again soon.
Adventists believe a Trinity of three persons—the Father, the Son, and the Holy Spirit—make up one God. They made salvation possible when Jesus, the Son, came to earth as a baby in Bethlehem and lived a sinless life in accordance with the Father's will. When Jesus was crucified for the sins of the people of the world and arose from the dead on the third day, victory was won for everyone.
When He returned to heaven following the resurrection, Jesus left the Holy Spirit to serve as our Comforter and Counselor. He promised to return to earth a second time to complete His plan of salvation and take His people to heaven. Adventists are among the believers who look forward to that day.
Adventists believe that God is concerned with the quality of human life, and that everything—the way we live, eat, speak, think, treat each other, and care for the world around us—is part of His plan. Our families, our children, our jobs, our talents, our money, and our time are all important to Him.
is the official website of the Seventh-day Adventist world church.